Roofing Contractors Network
3638 Green Meadow Ln.
Flower Mound, Texas 75022
Phone: 817.430.1615
Email: Email Us

Fort Worth Commercial Roof Inspection
This important first step will determine if your roof needs to be replaced, restored or repaired. This is why we devote an adequate amount of time to evaluate the condition of your roof.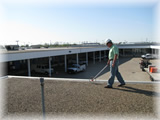 Commercial Roof Inspection Process
Measurement of roof
Overall inspection of membrane and conditions
Examine all parapet walls, flashings, counterflashings and copings
Examine all perimeter edge details
Inspect all rooftop equipment, projections, vents and HVAC units
Inspect all drain assemblies
Photograph all conditions
On non-warranted roofs, core cuts are taken to determine insulation information, deck material and condition
Wall conditions are noted
All deviancies are noted on a field diagram
How Often Should A Flat Roof, Metal Roof or Commercial Roof Be Inspected?
It depends on the slope of your roof. A low slope roof (up to 3:12 slope) the suggested frequency is twice a year. For a steep slope roof (in excess of a 3:12 slope) inspect once a year. This doesn't eliminate the need to inspect drainage devices, such as gutters and downspouts, on steep slope roofs, on a biannual basis.
When Is The Best Time For A Commercial Roof Inspection in Fort Worth?
It is best to inspect your roof before you plan your budget. Plan one inspection so that you receive the inspection reports and corresponding budget forecasts at the beginning of your budgeting process. It is also common when planning biannual inspections to conduct them in the spring or fall. Dallas and Fort Worth in North Texas experience severe hail storms in the spring and intense heat during the summer months which can damage your roof and alter its life expectancy.
* Built Up Roofs (BUR): Aggregated & Aluminized Surfaced * Modified Bitumen Systems: Modified / BUR Hybrid Systems Granulated and Smooth Surface Tapered Insulation Systems * Metal Roofs: Energy Star Elastomeric Systems * Single Plys: TPO PVC EPDM * Roof & Leak Repair: Waterproofing Caulking Walls & Windows
Dallas Roofing Contractor | Fort Worth Roofing Contractor | Commercial Roofer Dallas | Commercial Roofer Fort Worth
Industrial Roof Repair North Texas | Dallas Roof Restoration | Fort Worth Roof Restoration | Roof Repair Fort Worth Texas
Roof Repair Dallas Texas