Roofing Contractors Network
3638 Green Meadow Ln.
Flower Mound, Texas 75022
Phone: 817.430.1615
Email: Email Us

Budget Estimates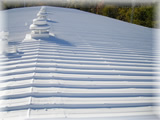 Older commercial building systems usually need more attention and repair than what is in the current budget. We understand this and can help the building owner or manager make informed decisions on which commercial roofing repairs to make.
We help the facilities manager and property owners with budgets from major repairs of older roofing systems to the minor repairs of new roofing systems that could become major repairs if neglected. Our expertise can help you decide when it is time to replace an older roofing system. Typically that time is when too much money is being spent on the repair of an older roofing system.
Another facility management factor to consider in maintaining roofing systems is energy management. Wet insulation in a roofing system loses energy. Good maintenance practices and good energy management go hand in hand. Some of the highest rates of return on energy conservation are generated simply by performing maintenance.
Gain a greater understanding of your assets by relying on our expertise. We will inspect your roof to evaluate whether maintenance or replacement is necessary and provide our finding complete with the specifications and budget required to repair or replace your roof system.
By offering only the best available products and by holding our team accountable from initial consultation to job completion, we provide superior value for your roofing budget and unrivalled customer satisfaction.
* Built Up Roofs (BUR): Aggregated & Aluminized Surfaced * Modified Bitumen Systems: Modified / BUR Hybrid Systems Granulated and Smooth Surface Tapered Insulation Systems * Metal Roofs: Energy Star Elastomeric Systems * Single Plys: TPO PVC EPDM * Roof & Leak Repair: Waterproofing Caulking Walls & Windows
Dallas Roofing Contractor | Fort Worth Roofing Contractor | Commercial Roofer Dallas | Commercial Roofer Fort Worth
Industrial Roof Repair North Texas | Dallas Roof Restoration | Fort Worth Roof Restoration | Roof Repair Fort Worth Texas
Roof Repair Dallas Texas