Roofing Contractors Network
3638 Green Meadow Ln.
Flower Mound, Texas 75022
Phone: 817.430.1615
Email: Email Us

Final Inspection - Dallas Commercial Roof Inspection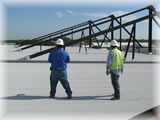 At the completion of the Roof Project, we make our final onsite inspection.
A Dallas commercial roof inspection consists of our representative, the contractor, a manufacturer's representative and the property owner's representative. We review the roof project for general conformance to the construction documents. We document any deficiencies or incomplete items. The items are issued to the contractor for correction and or completion.
We will not accept or sign off on any item of the project that is not completed according to the Scope of Work and Specifications custom designed for the project.
We have built a solid reputation on accepting only a high quality of workmanship on every project. You can be confident that when the project meets our final approval you will have one of the best roofs in Dallas backed by a Full Value NDL Manufacturer's Warranty.
* Built Up Roofs (BUR): Aggregated & Aluminized Surfaced * Modified Bitumen Systems: Modified / BUR Hybrid Systems Granulated and Smooth Surface Tapered Insulation Systems * Metal Roofs: Energy Star Elastomeric Systems * Single Plys: TPO PVC EPDM * Roof & Leak Repair: Waterproofing Caulking Walls & Windows
Dallas Roofing Contractor | Fort Worth Roofing Contractor | Commercial Roofer Dallas | Commercial Roofer Fort Worth
Industrial Roof Repair North Texas | Dallas Roof Restoration | Fort Worth Roof Restoration | Roof Repair Fort Worth Texas
Roof Repair Dallas Texas